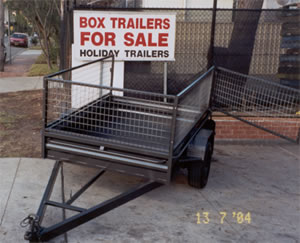 Mesh Cages
Standard size of 600 mm height or we can custom make any height
Galvanised mesh – 50 x 50 x 4
Painted square tube frames, painted to match your trailer.
Drop in fit for most standard trailers with open corner tubes.
4 piece design, for easy removal and storage when not in use
Swing gate on rear.
Cages can be added to all trailers sizes and can be custom built to different heights. They come with rear swing gates as standard. Frames can also be added to the top of the cage so that PVC or canvas covers can be used over the top.
Trailer with Mesh Cage
Trailer with mesh cage and canvas cover
---
Frames
Frames for support of different covers and are made from round tube steel painted in colours to match your trailer. They can be fitted to all trailer sizes and come in two standard heights, 450mm or 750mm to suit our canvas and PVC covers or can be made to fit over the top of a cage. We can also custom build frames to suit your needs.
---
Soft Covers
We supply covers to suit all frame sizes and they come in both canvas and PVC in a variety of colours.
Standard covers sizes are 450 mm and 750 mm high – custom sizes available also
Two zippers on the rear for easy access to trailer
Heavy duty canvas of PVC material used
eyelets  all around the bottom at 250 mm or less
Fitted with elastic cord.
Hooks for elastic cord fitted to trailer
Covers can be customised to include additional zippers and mesh windows etc.
Flat tonneau covers are also available to suit our trailers. These are supplied and fitted with elastic shock cord, hooks attached to the trailer sides and a steel bar across middle.
---
Steel Tops
Lid on struts
These are made of steel 100mm high and can be hinged on the side or front. They are fitted with 2 gas struts for easy lifting, optional racks and padlock provisions. They are painted in colours to suit your trailer.
---
PMG tops
We also manufacture PMG style tops. PMG tops are custom made to suit your needs, our standard dimensions are 200 mm high to the opening and 450 high in the centre of the trailer. Padlock provisions are provided for each door and also the trailer tailgate. More options are listed in the custom trailers section under Builders trailers
---
Pantec tops
Manufactured from steel and are available in many different configurations and sizes, standard size full trailer width and length and is 900 mm high from top of trailer side with 1 rear door and 1 side door. More options are listed in the custom trailers section under 'Tradesman trailers (Pantec and PMG)'
---
Jockey Wheels
jockey wheels can be added to your trailer and come in several types, the following are a few of the most common:
---
Stands
We have a range of stands and stabiliser legs that can be ordered with new trailers or fitted to you own trailer.
We supply the following types of stands:
Tube stands – Basic type, square tube type with bolt on rear to lock tube adjustable drop-down stabilizer legs – Pull handle to drop-down and wind with crank handle to adjust (pictured).
Jockey stands – Similar to jockey wheel, only it has a flat bottom section with no wheel. Available in clamp or swivel type.
---
Brakes
Vehicles with rating up to 2000 Kg GVM can be fitted with either:
Mechanical override Disc Brakes- A manual system where a cable is attached to the override coupling and is activated by the force of the braking tow vehicle. (Also available as mechanical override drum brakes). Mechanical override brake can be used on vehicles without brake controllers
Electric Drum brakes are activated by an electric brake controller that must be fitted to the to vehicle. The electric brake controller will send power to the brake drums when the tow vehicle brake pedal is pressed. Electric brakes can usually only be used on vehicles with brake controllers.
Vehicles Over 2000 Kg ATM Must be fitted with:
All trailers that are rated more that 2000 Kg ATM (aggregate trailer mass), which is the trailer weight and the load weight combined must have electric brakes fitted to all axle / hubs and the trailer must be fitted with a break-away braking system – with this system if the trailer becomes detached from the vehicle, the trailer brakes are activated immediately.
---
Jerry-Can Holders
Jerry can holders as pictured opposite are also available as an optional extra.
---
New Rims and New Tyres
All of our trailers come with used tyres and rims as standard however new tyres and / or rims can be fitted for an extra cost. Ask us about new tyres and rims when you order your trailer.
---